Dustin's Book Recommendations for March, 2018
Welcome to Dustin's 'Book Recommendations for Entrepreneurs' for March 2018. This month's recommendations include books from Seth Godin, Tim Ferris and Dale Carnegie. Enjoy!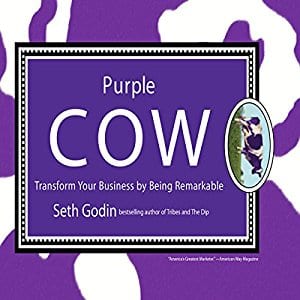 Purple Cow: Transform Your Business by Being Remarkable – Seth Godin
Seth Godin is a marketing genius. I suggest reading all of his work, however, if you choose to read only one… read Purple Cow.
In this book, Godin explains how "being remarkable" the best way to stand out from your competition in a crowded marketplace. "Being remarkable" is about making a difference in your business by creating and spreading "remarkable" products and ideas. Your business needs to stand out. It need to be unique.
Godin recommends following the "purple plan" below:
Sell what people are buying
Focus on early adopters
Make it remarkable enough for people to pay attention
Make it easy for people to spread
Let it work its own way to the mass market
Purple Cow was published in 2003. It's still relevant in 2018 and it will remain relevant forever. The book provides a number of examples that you can implement in your business today. It's worth buying and reading at least once a year.
How to Win Friends and Influence People – Dale Carnegie
I think How to Win Friends and Influence People should be required reading for all humans. The world benefit greatly if more people, especially sales people, practiced listening. See Hubspot's graphic below for a basic overview.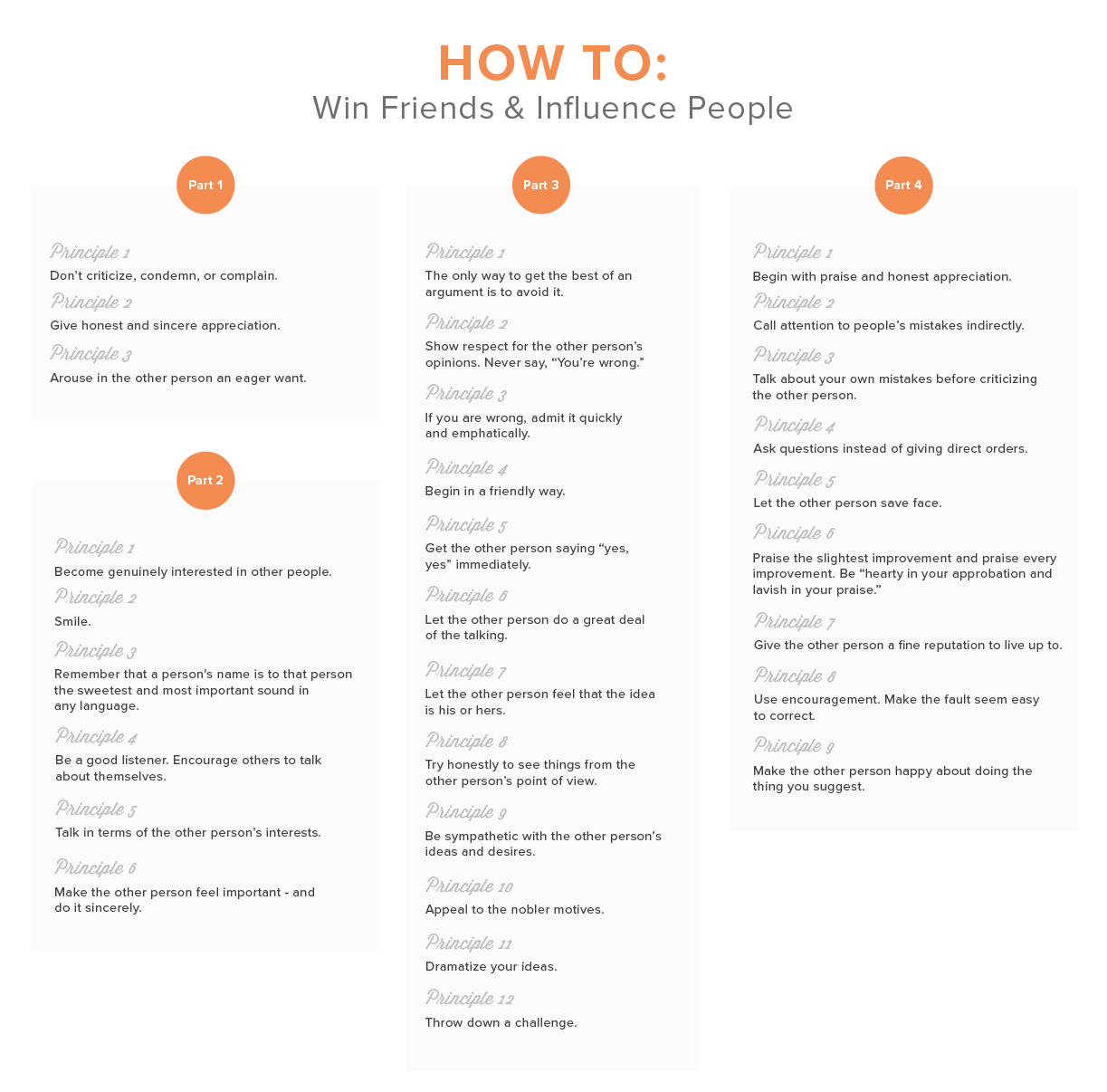 I suggest saving this graphic, printing it, then hanging it on the wall by your desk. After that, buy the book and read the book. It's a classic and it's worth it.
The 4-Hour Workweek – Timothy Ferris
Tim Ferris works more than 4 hours per week. That said, I do not suggest reading this book with intentions to work less when you're finished. I suggest reading this book with the intention to learn how to work smarter and become a more productive person (or business).
The 4-Hour Workweek is packed with time-saving ideas. Ferris is not afraid to give away his secrets. I personally implemented a few of his recommendations but more importantly, his book gets the "creative brain" working. I actually recommend listening to the audiobook because it's entertaining and it makes you think outside the box.
Get Dustin's Monthly Book Recommendations for Entrepreneurs
Thanks for reading and as always, let me know your thoughts on Twitter or LinkedIn. If you decide to read one of these books based on my recommendation, I would love to read your feedback. Lastly, to receive monthly recommendations in your inbox, subscribe to our mailing list and we will email them to you. Happy Opening Day!
Dustin Templeton is a digital marketing veteran and SMB consultant who works with business owners and entrepreneurs to maximize productivity and grow sales from the internet. Read his full bio here.