How to Write Blog Posts That Rank in Search Engines
Writing for search engines is important if you want your company blog to get public exposure. As a small business owner, you want to share expert advice with your target audience and appear in the results when potential customers search for answers to questions about your industry online. To show up in search results, your content needs to be written for search engines.
Writing for search engines is tricky and it can confuse small business owners. This post provides tips that will have you up and writing for search engines in no time!
Tools & Plug-Ins
Before you begin, gather the necessary tools and plug-ins to incorporate into your workflow. At minimum, you need a word processor, an SEO plugin and something to help you choose keywords. Here are a few of my favorite tools:
Word Processors
This is where all the writing magic happens. You use a word processor to keep your writing process easy and stress-free. Although it is best to do some research and find which specific word processor works best for you, I recommend using one of these word processors. Personally, I use all of them based on my project requirements.
Microsoft Word: Keep it simple with one of the original word processors. I use Word to create my outlines and to share drafts with editors and other collaborators. Since pretty much everybody has Microsoft Word on their computer, it remains my go-to.
Apple Pages: Pages is a great word processing / page layout tool. It works great for people looking for more control of their page layout and graphics. I find it easier to use than Word if I am using a lot of images or screen shots in my article.
Google Docs: I have used Google Docs for years. Google Docs offers multi-user online document sharing and collaboration. Your docs are stored in the cloud and saved automatically. Google Docs make sharing and collaborating with others easy.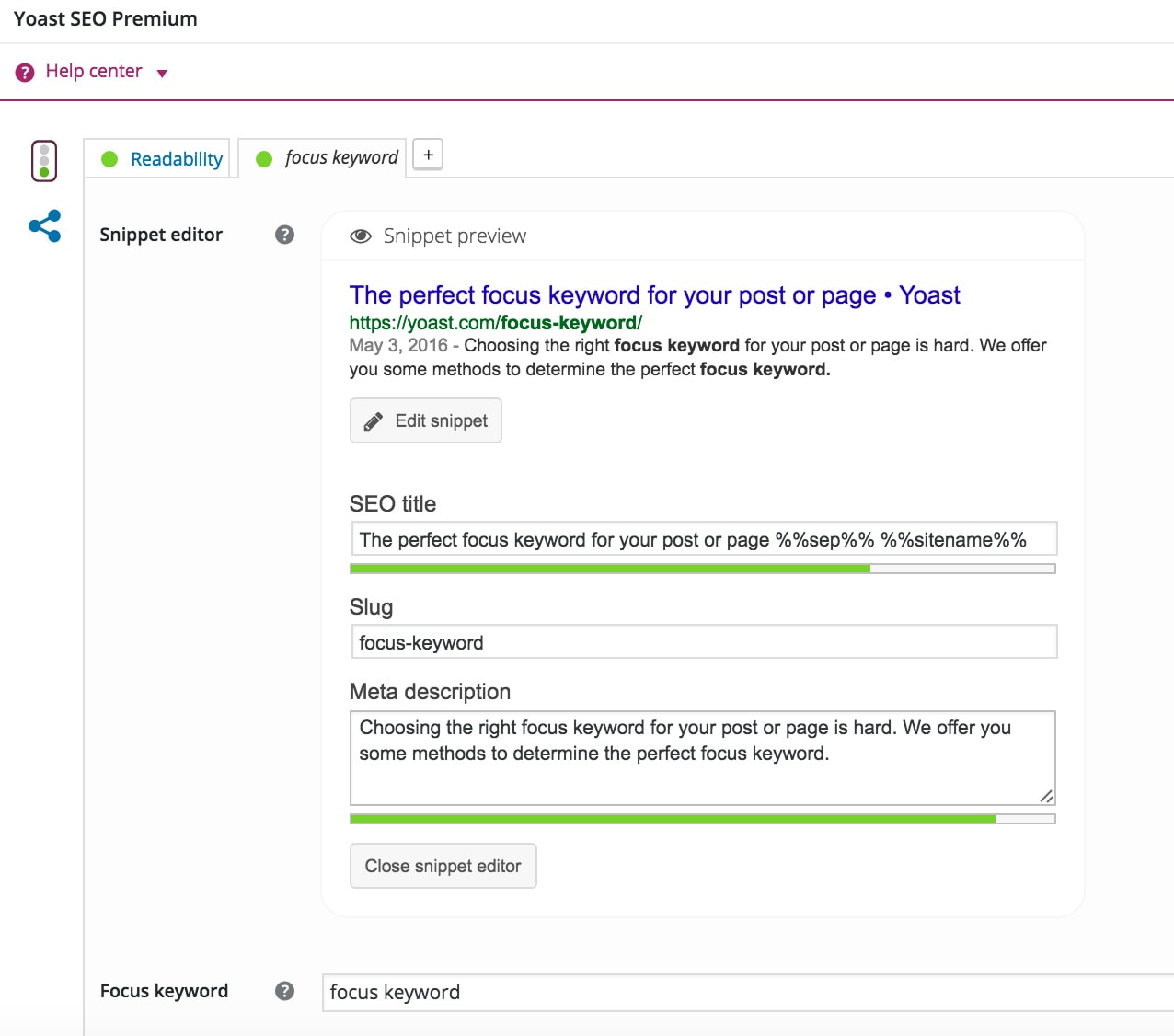 Image: Yoast WordPress SEO
SEO Tools
Because SEO is no longer an optional marketing channel and CMS systems have gotten easier to use, there are countless SEO tools available. Most of them are very affordable if not free. My top three:
Yoast SEO Plugin: Yoast's WordPress SEO plugin is easily my favorite. Yoast provides users with an awesome, easy-to-use plugin that provides a fantastic user experience. Some of its built-in features include; keyword optimization, duplicate content checks and the ability to add and preview separate meta descriptions for Google, Facebook and Twitter. Yoast also provides a helpful writing tool that tests your keyword usage and readability.Have a look here for some more tips on how to start a WordPress blog.
Yoast Google Suggest Expander: The Yoast Google Suggest Expander is great for researching long key phrases vs. exact keywords. More on this below.
SEM Rush: SEM Rush has a variety of tools for SEO research. Their keyword research tools allow users to find out how often keywords are searched for and how much the average cost per click is per advertisers.
Image: SEM Rush Keyword Research – "Web Design Nashville"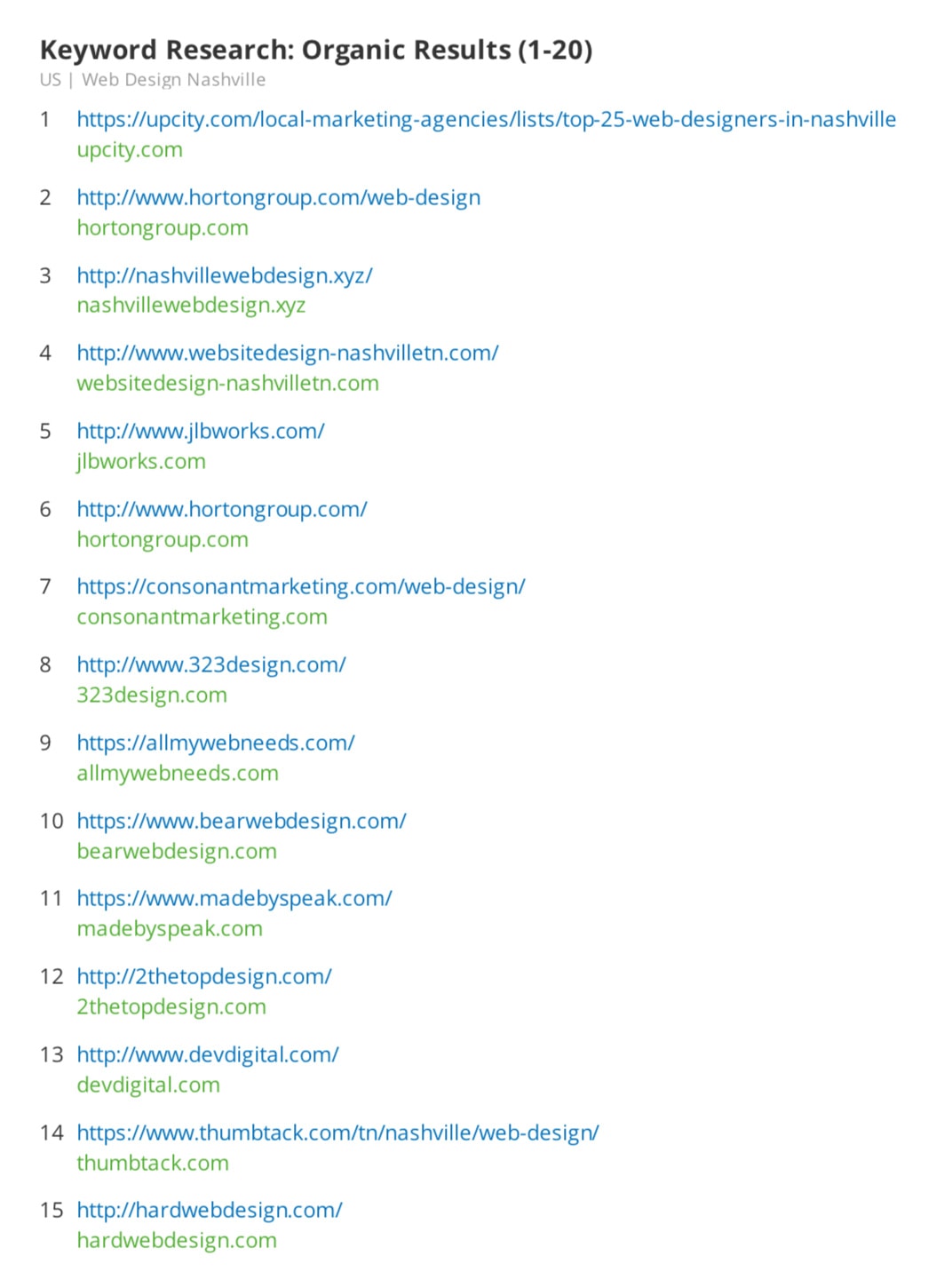 Image: SEM Rush Keyword Research – "Web Design Nashville" Top Ranking Sites. As you can see, Consonant Marketing doesn't rank #1 for web design… yet. We know, we need to work on it 🙂 
Choosing Topics and Keywords
After you have decided on your tools it is time to find related terms and themes that resonate with your audience. Start by making a list of the major topics you want your content to rank within. Read our tips on how to come up with ideas for your blog if you get stuck and need some blog topic ideas.
Choose Key Phrases Over Keywords
Long-tail keywords are longer and more specific keyword phrases that visitors are more likely to use when they are searching for answers online. Long phrases can be extremely valuable if you know how to use them.
A great way to start is by broadening your search reach and looking at the intent of your visitors. Incorporate the phrases your audience searches for around your topic naturally because optimized content can easily work against you. There is a huge difference between naturally incorporating keywords into your content and stuffing so many in a single paragraph that the content becomes awkward and repetitive. Try to keep your keyword density around 2% and make sure your blog contains at least 300-500 words.
For example, instead of a two-word keyword such as "print shop" try being more specific with "print shop in Nashville" or "custom print shops Nashville" By doing this you dramatically help improve the quality your writing and blog content.
Write Long Form Blog Posts
Writing for search engines requires quality content that contains a minimum of 300 words. Depending on your audience you may want to write closer to 1,000+ words. There are benefits to writing longer form blog posts vs. short form posts due to an increased chance of higher rank results for longer posts. Generally, when a client is just starting to write blog posts, I recommend a goal of 500 words to start and gradually increase and learn what your audience likes from there.
Take Time to Write a Great Headline
First, address what you are writing about, then try to get clever with it. Think about what the problem is, who is it directed towards and how your title will read it who is outside your target audience. Use your SEO keywords in the title with trying to use the least amount of words. This is where it gets tricky. While you want a short title that includes your keyword, you also want to stay away from broad terms. Non-descriptive titles will not get you to rank high among competitors. Research your key phrase and tweak your title to see a boost in page positions.
Here are a few examples:
What No One Tells You About ___
___ VS ___. Which Is Really Better?
Why You Need to ____ for ____
How to ___ that ___
Add Outbound and Internal Links
When you mention another blogger or news source in your post, include a link to the information you are referencing. Not only does this show proper etiquette but your website also receives a link back. Quality links are a valuable and rewarded by Google, resulting in a higher ranking in search engine results.
Once you have identified which sources you are linking out to you need to insert the website address to the text. Adding the link is easy and generally the same for all word processors. Click here to learn more. It is just as important to add an internal link or links to relevant articles relating to your topic. Make sure to add at one of each to your post.
Analyze and Edit
Before publishing your blog post you need to properly edit and analyze your content and ensure you have completed all your SEO requirements and tasks. You are in the home stretch at this point so hang in there!
Proofreading
I always recommend using a friend or family member or hiring a professional to help with the structure and grammar before publicizing. Before getting another set of eyes on your writing I recommend using an editing software like Grammarly for basic spelling grammar mistakes.
Analyze Keyword Usage
Once you have edited your document you are ready to check all your SEO requirements and make sure you covered them all. As stated earlier, you do not want to overstuff the written content with keywords making it harder to read but, in this case, you DO want to add them to other areas of importance. Check and make sure you use keywords in the title, images, and URL.
Use this list as a guideline before publishing:
Images: To optimize your images all you must do is rename the file with your keyword and then upload to your website. Search engines take your title tags into consideration when your blog post gets ranked. Always make sure your images contain an alt tag that contains your desired keyword.
URL: Search engines look to your URL to figure out what your post is about, and it is one of the first things it will crawl on a page. Every post lives on its own unique URL, so make sure you include your one to two keywords in it.
Meta Description: The meta description is a summary of your post that shows up in Google's search results. Make sure your summary includes your keywords and provides an accurate explanation of the post's contents.
Social Media Descriptions: Make sure the images and descriptions used when sharing on social media includes your keywords and remains consistent. If you use WordPress the Yoast plugin mentioned above incudes a social sharing option.
Image: Title and Meta Description Preview from Yoast WordPress SEO
Ready to Write for Search Engines?
When it comes to writing your blog, SEO is a no brainer. While it does take some time and effort, the benefits and results you get if done correctly are well worth it.
Jean Templeton is a public relations director and copywriter who works with small business owners and aspiring entrepreneurs to help grow their personal brands and businesses.
Jean is the co-founder of Consonant Marketing and believes in creating content that is organically produced and custom made. She is professionally trained in Search Engine Optimization (SEO) and specializes in Creative Writing and Public Relations.