Jean's Book List for Creative Entrepreneurs
Welcome to my first book list for creative entrepreneurs. Because I am one myself, I know how difficult it can be for creative people to find the right balance between creativity and productivity. For this reason, I decided to provide a few book recommendations for creative entrepreneurs. These books personally helped me through times when I have felt both unmotivated and "stuck."
My recommendations include books from Elizabeth Gilbert, James Altucher, Steven Pressfield and Mark Manson. If you are having trouble embracing your wild creative side, these books are for you!
Big Magic: Creative Living Beyond Fear – Elizabeth Gilbert
"If I am not actively creating something, then I am probably actively destroying something"
In Big Magic, best-selling author Elizabeth Gilbert shares her insights and advice based on her own personal difficulties with the creative process. I believe this book is one of the most honest discussions about creativity that I have ever read. Gilbert writes in a fun, playful tone while offering insights into the mysterious nature of inspiration. Gilbert teaches you to tackle what you love the most and face what you fear the most.
She provides advice that will show you how to become a creative person who is also a productive person. I recommend this book for people who feel challenged while pursuing their dreams in a creative industry. Maybe you are writing a book, making art, finding new ways to address challenges at work, or simply looking to infuse more passion into your everyday life. Whatever the case may be, Big Magic is a book to help you get there.
If you connect with Gilbert's writing I suggest going to her website and having a listen to her podcast "Magic Lessons." She has heaps of additional resources to help guide you on your creative journey.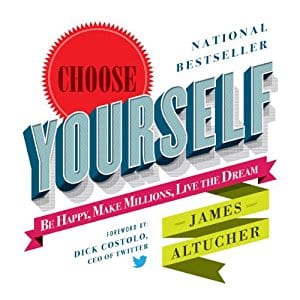 Choose Yourself: Be Happy, Make Millions, Live the Dream – James Altucher
"No longer is someone coming to hire you, to invest in your company, to sign you, to pick you. It's on you to make the most important decision in your life: Choose Yourself."
Choose Yourself is a book for people who are hesitant to take the leap into entrepreneurship. Altucher's premise is that you do not need to wait for permission from gatekeepers, friends, or family to do what you know you are capable of. With all the tools we have available today, it is possible for individuals to create art, make millions of dollars and change the world without "help."
Altucher is living proof that "choosing yourself," instead of waiting for approval from others, puts you in the position to fulfill your passions. He shares numerous, sometimes humorous examples from his own career, showing readers that it's possible to fail multiple times and still become a succesful investor, author and entrepreneur. Ultimately, the book reassures entrepreneurs that the feelings they experience are normal.
Choose Yourself has a special place in my heart because I read it when I probably needed it the most. It gave me confidence when I was experiencing quit a bit of fear and self-doubt.
If you do not already follow James Altucher's blog, I highly recommend you do so. His blatant honesty is refreshing. I often find myself letting out a big "Hallelujah!" after I finish reading his work 🙂
The War of Art: Break Through the Blocks & Win Your Inner Creative Battles – Steven Pressfield
"The most important thing about art is to work. Nothing else matters except sitting down every day and trying."
The War of Art is a book for entrepreneurs facing creative blocks or hesitation in their lives. According to Pressfield, the common enemy most of us face is resistance. Everyday we either win or lose the battle. This book helps readers muster the strength and determination to build a creative enterprise against their own fears, procrastination, and self-sabotage.
I found this book very inspirational and motivating because it reads like a good kick in the ass. I recommend checking out Pressfield's website to learn more about fighting the creative battle within. His website's tagline: "This site is about you learning from my mistakes."
The Subtle Art of Not Giving a F*ck: A Counterintuitive Approach to Living a Good Life – Mark Manson
"Let's be honest, shit is f*cked and we have to live with it." 
Mark Manson is a New York Times bestselling author, blogger, and internet entrepreneur. The Subtle Art of Not Giving a F**k is Manson's witty rebuttal to the "coddling, let's-all-feel-good" mindset that surrounds us today.
Manson takes a different approach to self-help and teaches readers that once you stop trying to be so positive all the time you can truly become a happier person. With a clever, sharp delivery throughout, Manson shares personal stories and well researched arguments to back this theory up. There is no "woo-woo" fluff in his writing, showing readers just how well he has mastered the art of not giving any f*cks.
This book dropped a serious truth bomb on me and I greatly appreciated Manson's brutal honesty. After reading I found myself embracing my faults, fears and painful truths which I avoided for years. I highly recommend reading Manson's blog. His website contains a variety of helpful resources, including some awesome online courses.
Get More of Jean's Book Lists
Thanks for reading my very first book list! I hope these books help some of you as much as they helped me. Let me know if you decide to read one of them and tell me what you think on Twitter or Instagram. I love hearing feedback from my fellow creatives. To receive my monthly recommendations in your inbox, subscribe to our mailing list!
Jean Templeton is a public relations director and copywriter who works with small business owners and aspiring entrepreneurs to help grow their personal brands and businesses.
Jean is the co-founder of Consonant Marketing and believes in creating content that is organically produced and custom made. She is professionally trained in Search Engine Optimization (SEO) and specializes in Creative Writing and Public Relations.